UNADORNED MC's
By Timothy Fay

James Brandt
Welcome aboard, James! I liked your first contribution (especially the guest appearance of the "Rabbit of Approval").
Edd Vick
RiffTrax is great -- I'm sure you'd like it, especially if you're an MST3K fan. And, not to be outdone, Joel Hodgeson and most of the original MST3K cast have reunited under the banner Cinematic Titanic. I saw their first DVD release, The Oozing Skull, a few months ago, and it was great! They returned to Minneapolis in February to promote their new venture with a live performance at a local comedy club. I was fortunate enough to get tickets to this event, and they put on a great show.
J. P. Morgan
One of the most bizarre and surreal Fleischer cartoons is "Bimbo's Initiation." I was also a fan of H.R. Pufnstuf in my youth, and I agree on the slightly disturbing nature of the inhabitants of the Living Island. Even more bizarre is that, on the other side of the island, you have Lidsville -- a city populated entirely by living hats (and a gay wizard, played to the hilt by Charles Nelson Reilley).
But as far as these Saturday morning fursuit shows go, nothing beats the sheer psychedelic weirdness and manic energy of The Banana Splits.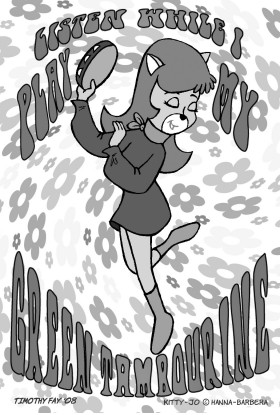 Margaret Schaefer
A belated welcome to you, too! I couldn't make it to Furry Weekend Atlanta, but I definitely look forward to seeing more of your work in 'Brazzle.
Michael Susko, Jr.
Glad you liked the Cleo drawing. The color version is featured on my DeviantArt site: http://tim-kangaroo.deviantart.com/
Bill Fitts
Likewise, it's good to see you around, too! I came across a discussion on Jeff Wood's "Snowbuni" forum regarding Rowrbrazzle membership where our O.E., William Haskell, pointed out that I'm the only remaining original member of this APA. I've been a regular contributor since #1! I'm still around and still drawing funny animals!
* * *
Everyone else -- great work! Here are a few recent sketches you might enjoy, plus some 2007 Holiday artwork (yes, I really did get a Magic 8-Ball that year for Xmas). Have a great Spring, and keep up the good work!