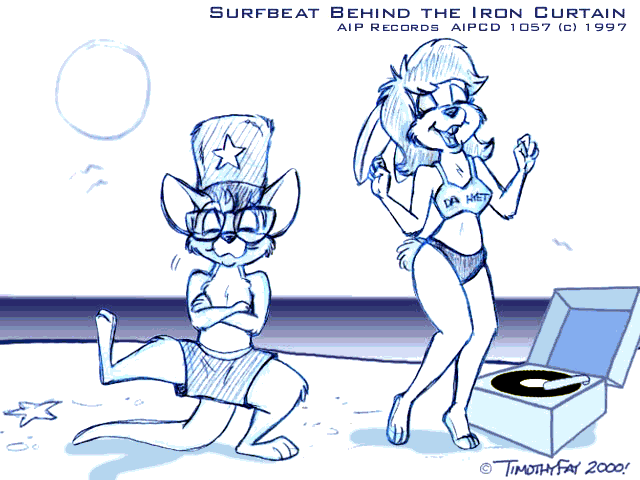 Above is a drawing I did at a sketch party a few weeks ago at Derrick Dasenbrock's place. I cleaned it up a little and added a background (thanks to PhotoShop). I sketched this while we listened to a CD I picked up at Rhino Records in L.A. last year. It's called Surfbeat Behind the Iron Curtain and is an anthology of mid-60's "surf music" recorded by bands from the Eastern Bloc (i.e., former Communist countries in Eastern Europe, for all you Gen X-ers). You can check out a sample track on the World Wide Web at:
http://www.rootoon.com/media/sputniks.pls
(You'll need WinAmp or Windows Media Player in order to listen to this file.)
The song is "Sputniks Thema" (1964) by an East German band called The Sputniks. According to the liner notes:
"An early R&R band from East Berlin, they jumped on the beat train in 1964 when rock was young in the Eastern sector. Due to the permanent censorship of those days they tried to copy their idols as best they could and got signed by E. G.'s only label. They got a chance to appear on the only and most legendary album compilation of East Germany, "Big Beat Vol. 1", which features 5 tracks by them. Later, they cut at least 4 45s on their own, also accompanied by (mostly) female solo-performers. They split up when the Communist government banned them from all stages."
Surf's up, Comrades!